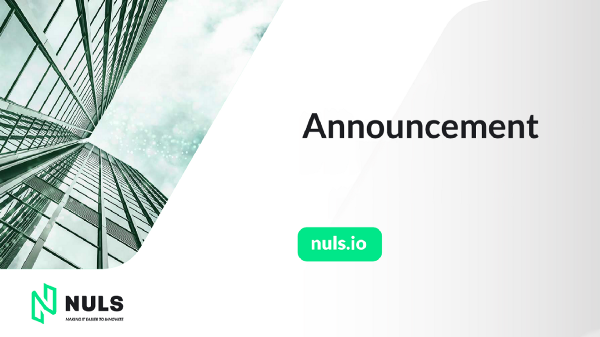 You can now start the verification process on your NULS account. To unlock your NULS account properly, it is required to unstake your NULS from mainnet consensus and POCM.
Please strictly follow the procedures, thank you!
1. Unstake your NULS from mainnet consensus and POCM on Nabox Wallet or NULS web wallet
Tips: To ensure safety of the application resources, Nabox App and Nabox plug-in need to be downloaded from Google Play Store.
Verify MD5 if you install Nabox via an APK file.
For iOS users, please download Nabox on Testflight.
Link to download Nabox Wallet App/Web plug-in/APK : https://nabox.io/
2. verify signature message
You will be required to submit the information in the image below at https://at.apply.nuls.io/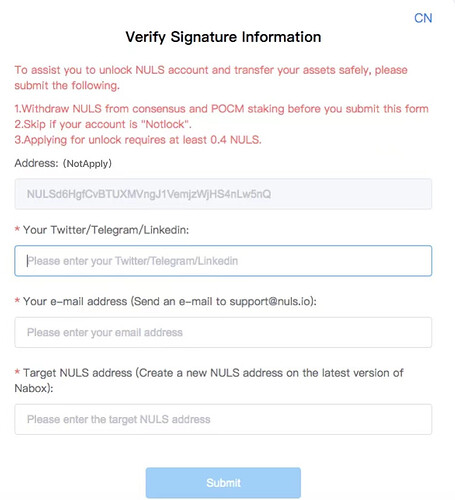 3. Send Verification E-mail
Person in the community who can verify your identity : A video and screenshot of chatting history in the community.
Proof of the resource of your assets : A video of withdrawing your assets to centralized exchanges, a screen shot of old withdrawing records to centralized exchanges, etc.
Your Twitter/Telegram/Linkedin.
Please send the information above to support@nuls.io.
After completing the 2 steps above, contact NULS official on Telegram via t.me/nulser.
For safely reasons, we will evaluate the persuasiveness of the information you submited. You might be required to provide additional proofs.
If the information you submited is authentic, which can prove the ownership of your NULS account. We will assist you to transfer your NULS to the new address which you submitted at https://at.apply.nuls.io/.
5. Confirm assets on your target address
Rewards tokens from POCM on locked NULS account will be locked for 3-7 days. You can transfer the rewards tokens after it is unlocked.
Thank you for your support!
NULS Team
Jan 29th 2022