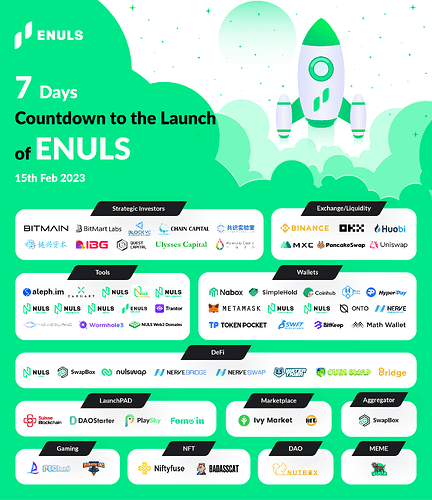 We are excited to announce that the long-awaited ENULS mainnet will be officially launched on February 15th, 2023.
NULS is an open-source public blockchain that has been developed and modified over the years. Following the unstoppable trend of EVM-compatible blockchains, the NULS community also decided to launch its own EVM layer2 network, which is ENULS.
We believe that the activation of ENULS is able to empower the whole NULS ecosystem in many dimensions. Application deployment in ENULS becomes much easier, most EVM-compatible DApps can be completely migrated and deployed on ENULS. We take the best advantage of this opportunity to increase our ecosystem diversity, and so far, we have many partners already on board! We will shape the blockchain in the most NULS way!
If you're ready to join us for the wild ride, then stay tuned, and be the first ones to experience the brand-new ENULS on February 15th, 2023.
ENULS, initiated by the NULS community, is a blockchain that is fully compatible with EVM and Web3 API interfaces. ENULS uses the NULS as the main asset in its network. The contract assets and chain assets from NULS can also be bridged to the ENULS network.
ENULS can be also seen as a layer2 scaling solution for Ethereum that brings better performance and lower gas-fee cost. Meanwhile, ENULS blockchain will also be supporting efficient deployment of the Ethereum ecosystem projects.
The cross-chain capability from NULS's Parallel Chain — NerveNetwork, will empower assets from ENULS to be transferred & interacted with multi-chains, such as Ethereum, BNB Chain, Optimism, Arbitrum, Zksync, Tron, etc.
ENULS Ecosystem Projects
Liquidity / Exchanges
The ENULS mainnet will use native NULS assets as its underlying token. NULS has been listed on global top exchanges since 2018. You can get NULS from centralized exchanges: Binance, OKC, KuCoin, Gate.io, Huobi, and decentralized exchanges: Uniswap, PancakeSwap
ENULS DeFi
CUBISwap is the first decentralized exchange on ENULS ecosystem, which will be available as soon as the ENULS mainnet goes live on Feb 15th this month.
POCM (Proof of Credit Mining) is an SCO Platform that allows projects to use smart-contracts to issue and distribute project tokens on blockchains. Got NULS? Stake into a project's nodes and earn their token as rewards, while the project earns NULS as rewards. Projects can use the NULS consensus rewards to bootstrap and help fund development.
SwapBox is a multichain liquidity aggregator developed by an ENULS ecosystem wallet — Nabox
Nulswap is the first decentralized exchange built within the NULS ecosystem, serving multiple nrc20 assets.
NerveNetwork is a crosschain protocol that connects NULS native and ENULS network. It also provides staking and decentralized exchange services.
Watertiger Finance is the first DeFi Yield Farm on NULS ecosystem.
Ecosystem Wallet
NULS ecosystem wallets include: Nabox Wallet, Math Wallet, ONTO Wallet, Coinhub Wallet, HyperPay Wallet, TokenPocket, SimpleHold Wallet, BitKeep Wallet.
Tools
Earhart transforms how the record management is made in the aviation industry. It will connect all industry together making it more efficient and profitable, for all types of organizations.
Stake NULS coins on mainnet to earn NULS
NULS Domain is developed by a NULS ecosystem NFT Marketplace — NFTCircle
NULS multi-sig comes as a DApp, which is compatible with NULS and NerveNetwork blockchain The Multi-sig DApp can be used to manage NULS and Nerve mainnet assets, also including assets bridged from Ethereum/Polygon/Arbitrum/BSC/Heco/OEC/Cronos and other blockchains to NULS through NerveBridge(currently not compatible with NRC20 assets).
Find the latest NULS ecosystem updates, and vote for your favorite community proposal on NULS forum.
Launchpads
The ENULS ecosystem launchpads include : Fomoin, Suisse Blockchain, PlaySky, DAOStarter.
NFTs
Ivy Market is an NFT marketplace on ENULS that t grants your digital assets additional benefits and use-cases in a wide variety of scenarios.
NFTCircle is an NFT marketplace that offers new generation of NFT through AR by ToppanTabitori & visual art under ARTMYN for art ecosystem.
Niftyfuse is a platform that will make NFTs deflationary, on Niftyfuse platform you can mint two NFTs into one!
GameFi
PECland is a creative Web3 social gaming platform that offers users an immersive gaming experience! Users are able to grow and share experiences with their partners in our PECLand virtual environment.
Multichain Play2earn Strategic RPG with zero start investments based on NFTs for army, magic stones, Gods.
We always place ecosystem construction as our primary target in all conditions, and with ENULS being activated that makes it much easier to grow our ecosystem. Starting from ENULS, the first significant milestone in 2023, the NULS team is committed to developing the whole ecosystem in a more innovative way and bringing more partners into our community.