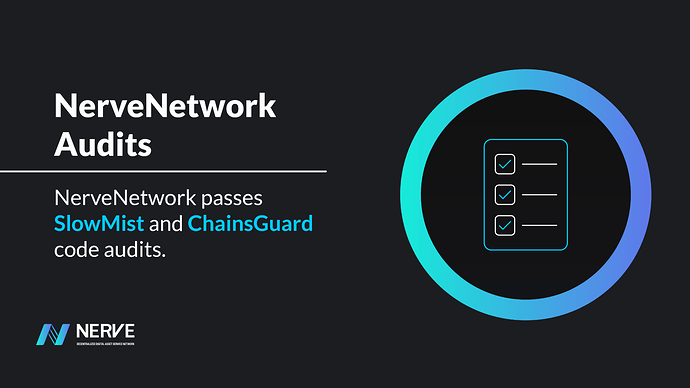 NerveNetwork Code Audits Complete
We are pleased to announce NerveNetwork has passed two important security audits with flying colors.
Audits by Chainsguard and SlowMist Technology were just completed. The results are linked below.
Cross-chain Module Audit
The NerveNetwork public chain cross-chain module has passed the ChainsGuard technology company's code audit. This module is widely used in the NerveNetwork mainnet, NULS mainnet, and NULS blockchain.
Source code under review:
github.com/NerveNetwork/nerve/tree/v1.0.0-beta20200721/module/nuls-cross-chain
Commit: df6afa114cf8f3523dad4ef75b0dba8c47212edf
Smart Contract Audit
NerveNetwork's cross-chain signature smart contract NerveMultiSigWalletII has passed the SlowMist Technology company's code audit. The signature smart contract is used to cross-chain BSC (Binance Smart Chain) and ETH (Ethereum) on the NerveNetwork mainnet.
Smart contract NerveMultiSigWalletII:
github.com/NerveNetwork/contracts/blob/master/NerveMultiSigWalletII.sol
commit: 4d663e7695bc833d8c8b97ec55557a458e416add
NerveNetwork is the NULS ecosystem's bridge for cross-chain interconnection of blockchain assets. The current value of asset circulation on NerveNetwork has exceeded hundreds of millions USD.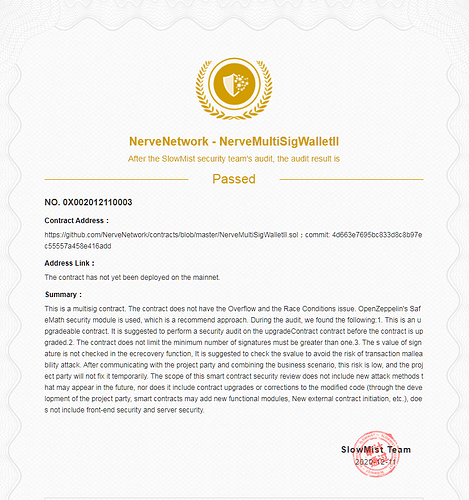 The Nerve team is serious about code security. So far, we have cooperated with two security companies to audit our cross-chain asset security. This will help prevent code defects that cause asset security issues.
SlowMist Technology, headquartered in Xiamen, is a top international blockchain security company. Founded in January 2018, SlowMist has supported nearly a thousand commercial customers distributed in over a dozen countries and regions.
You can query SlowMist smart contract audit results: Smart Contract Audits
The team has 10+ years of network attack-defense experience. Its clients include cryptocurrency exchanges Huobi, OKEx, Binance, and wallets imToken, RenrenBit, MYKEY. DeFi projects JUST, BlackHoleSwap, DeFiBox, and public chains EOS, OKChain, PlatON have also sought their expertise.
Beijing's ChainsGuard Network Technology provides comprehensive security analysis for blockchain ecosystems. The company's core members each have over ten years of experience in IT and commercial security solutions.
Beijing's ChainsGuard Network Technology focuses on blockchain security, but not just exchanges. Wallets, chain nodes, and mining pools need security services too.