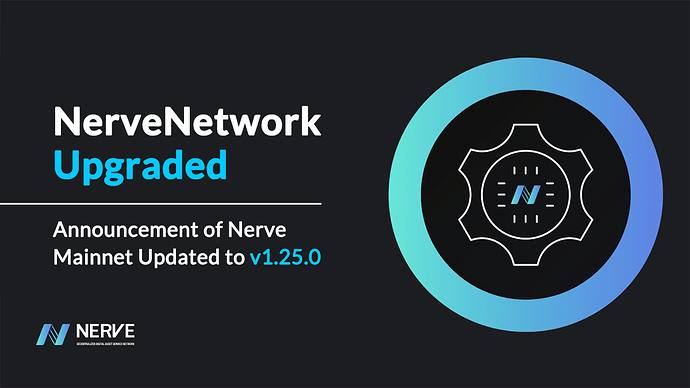 To NerveNetwork Community:
The latest version of NerveNetwork mainnet node (v1.25.0) has been released. The new protocol will take effect after block heights reach to 45,890,000 approximately on July 3rd, 2023 08:00 (UTC+8).
New Features of NerveNetwork (v1.25.0)
Removed NVT-ETH LP (asset ID 9–250) from supported LP assets list.
Added NVT-ETHN-LP (asset ID 9–672) to supported LP assets list.
Optimized certain interfaces of the consensus modules, improved Nerve nodes stability.
Optimized node-signature functionality and supported remote management of private key.
Optimized the calling logic of the node RPC of heterogeneous cross-chain.
This is a mandatory update with protocol changes, all mainnet nodes are required to complete the updates to avoid any inconvenience due to the protocol changes.
How to update
Update using Docker: nervenetwork/nerve-wallet-node:v1.25.0
Follow our tourial: http://docs.nerve.network/zh/Guide/g_docker_install.html
Questions & Feedback
NerveNetwork is a globalized project driven by worldwide communities. For questions and suggestions you can join our official channel, we will give you the latest tech support. We apologize in advance for that we might not be able to solve your troubles in time due to the time difference.
NerveNetwork Community
Resources Links
June 29nd, 2023, NerveNetwork Team